World Heritage Sites in Austria
World Heritage Sites are examples of artistic masterpieces and/or unique natural landscapes that are expressions of our world's richness and diversity. Their destruction would present an irreplaceable loss to all of humanity. For this reason, the international community of states adopted in 1972 the "UNESCO Convention Concerning the Protection of the World Cultural and Natural Heritage". Inscription on the World Heritage List represents both an honour and an obligation: the inscribed sites must be preserved in the present and for future generations in terms of their substance and their value by means of appropriate management and national-level preservation measures. Austria acceded to the World Heritage Convention in 1992 and is now represented on the World Heritage List by nine sites.
Historic Centre of the City of Salzburg
The old city centre of Salzburg is an outstanding example of a seat of ecclesiastical power located at the heart of Europe. It is characterised by a cityscape closely intertwined with its natural surroundings, by a historically significant pattern of urban organisation featuring a burghers' section of medieval origin and a baroque section as the domain of the prince-archbishop, and by a large number of church and secular structures built during a wide range of centuries and stylistic eras. The city's cultural heritage bears witness to the fruitful exchange between northern and southern Europe catalysed by the Italian artists who were called to work here. Also worthy of note is Salzburg's identity as a musical and cultural metropolis, based on the musical tradition founded by the city's famous son Wolfgang Amadeus Mozart as well as on the festival founded by director and producer Max Reinhardt.
Palace and Gardens of Schönbrunn
The Palace of Schönbrunn and the adjoining park represent one of Europe's most impressive and best-preserved baroque ensembles. Schönbrunn served for over 300 years as the summer residence of Austria's imperial house, symbolising their power and influence in European history. The complex, which originated with an imperial hunting lodge built near a spring that fed the Schöner Brunnen [beautiful fountain], was built over multiple centuries and bears witness to the evolving tastes of its inhabitants and their times. Johann Bernhard Fischer von Erlach expanded the existing structures to create a High Baroque residence, while the interiors installed under Empress Maria Theresa represent a zenith of courtly domestic culture and imperial representation.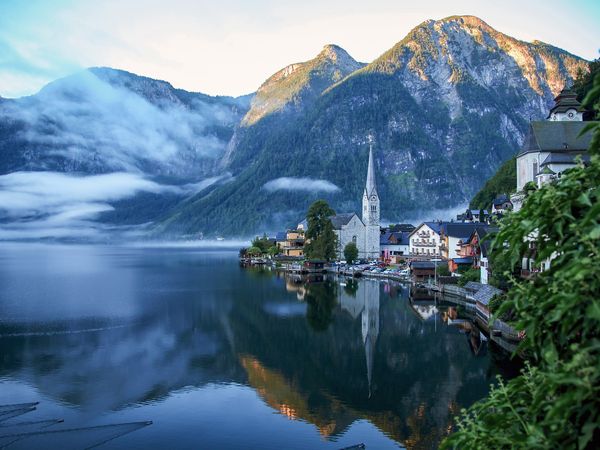 Hallstatt-Dachstein / Salzkammergut Cultural Landscape
The alpine Salzkammergut region represents an exceptional natural landscape. It is uniquely beautiful and is also an object of special academic interest thanks to the history of Hallstatt and its salt-mining tradition, which originated in prehistoric times. The world's oldest mining location still active today joins local archaeological finds to represent the "Hallstatt Period". The ways in which the mountain known as the Salzberg [Salt Mountain] and the surrounding forests were worked and thus visibly formed have also left behind their traces in cultural history. The golden era of the salt trade is also borne witness by Hallstatt's architectural heritage, which features a gothic and baroque ensemble of structures. The nearby Dachstein massif is characterised by diverse flora and fauna, karst, glaciers, and ice caves. All in all, this is a cultural landscape where nature and culture come together in a harmonious fashion.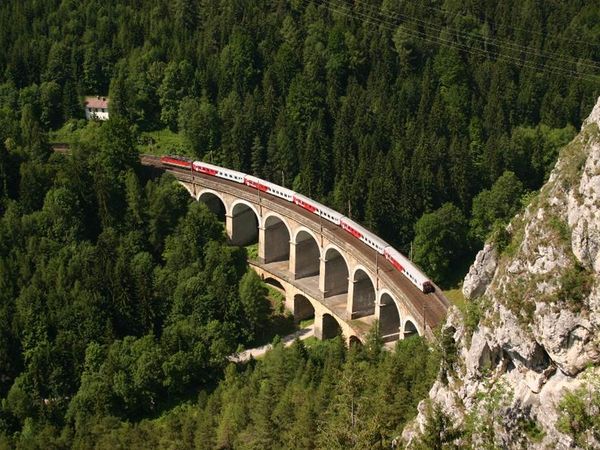 Semmering Railway
The Semmering Railway revolutionised travel by rail. As a masterpiece of engineering art, it embodied an outstanding technical solution to one of the most urgent construction problems faced by railroading's early pioneers. This 41 km stretch, built between 1848 and 1854, was Europe's first standard-gauge, double-track mountain railway. Its tunnels and viaducts allowed regions at high elevations to be reached by train for the first time. The creation of a fast route to Upper Styria over the Semmering Pass also represented a significant step forward in the on-going construction of the Austrian Southern Railway (the Südbahn) from Vienna to the Adriatic port city of Trieste via Graz and Ljubljana. And what is more, it made areas of great beauty easily accessible for those wishing to move or travel there on holiday, giving rise to a new cultural landscape with its typical hotels and villas for summer vacationers.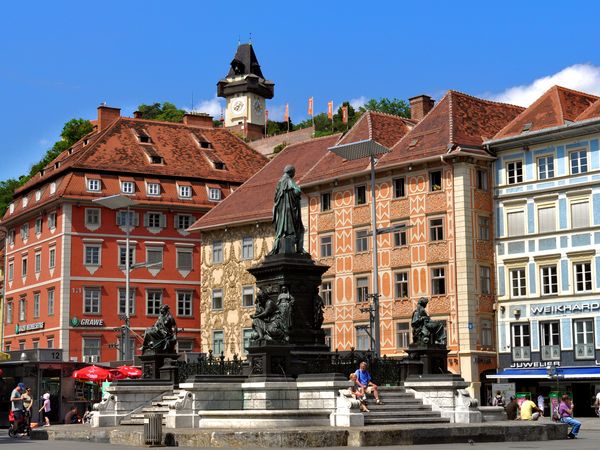 City of Graz – Historic Centre and Schloss Eggenberg
Graz represents a centre of commerce between the Danube region and the Adriatic. It also lies at the interface between western and south-eastern Europe and has long functioned as a multicultural hub thanks to migration from surrounding lands. The influence of the city's patrician Eggenberg family – who used their palace, Schloss Eggenberg, as a courtly seat – corresponds to this estate's direct connection by road with the historic city centre. Together, they reflect a centuries-long synthesis between the artistic and architectural trends of the German and Mediterranean regions and those of the Balkans. The historic city centre and the palace demonstrate harmonious integration of the architectural styles of successive eras – exemplified by the multifaceted cityscape with its gothic, renaissance, baroque, historicist, art nouveau, and modernist structures hidden beneath a sprawling landscape of rooftops.
Wachau Cultural Landscape
The Wachau is a valley characterised by its unique river landscape – a mountain-lined stretch of the Danube between Melk and Krems that also represents a cultural space of outstanding historical value. Since the area's initial, protohistorical human settlement, important witnesses to its long historical development have come together in exceptional density, ranging from the stone-age Venus of Willendorf statue to Roman roads and limes fortifications to castle ruins like Dürnstein and Aggstein and the magnificent baroque monasteries of Göttweig and Melk, complete with remarkable views reaching from one to the other. Snugly built villages and towns join with vineyard terraces to comprise a medieval landscape that has unfolded organically and harmoniously as time has passed. Combined with the natural scenery of the Danube's winding course, replete with rugged cliffs and undisturbed riparian forests, it all amounts to one of the most striking areas of central Europe.
Historic Centre of Vienna
The centre of Vienna embodies a unique urban monument. Its rich architectural heritage as well as its overall structure, which a period of 2,000 years saw develop from the Roman settlement of Vindobona into a fortified imperial seat and on to become a sprawling metropolis in the wake of the Ringstrasse's construction, bears witness to Vienna's universally valued cultural tradition. Three key phases of European development – the Middle Ages, the Baroque, and the Gründerzeit – still characterise the Habsburg Empire's former capital, which wielded a central influence over the history of Europe for over 600 years. In the generously proportioned city centre and its numerous monumental buildings, the imperial style and its lofty representational ambitions continue to be manifested to this day. Similarly exalted is the reputation enjoyed by Vienna as a world capital of music.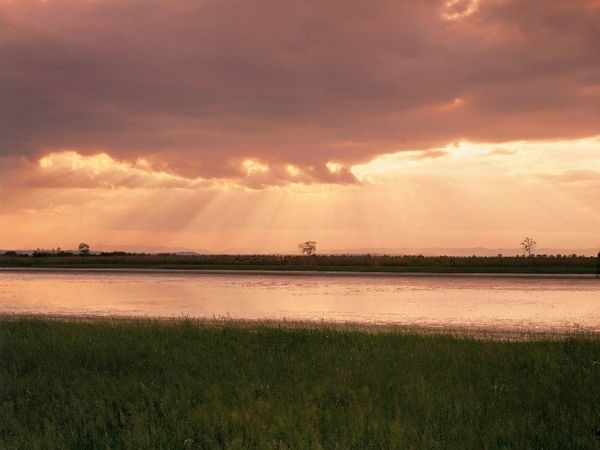 Fertö-Neusiedlersee Cultural Landscape
Fertö Neusiedlersee [Lake Neusiedl] represents a unique border region. For 8,000 years, different cultures have met and mingled in this stretch of country between present-day Burgenland and Hungary, and these encounters between Finno-Ugric, Slavic, and German ethnic groups have resulted in a richly varied cultural landscape. Climactic and ecological zones ranging from continental to sub-Mediterranean likewise overlap here, with a highly diverse range of flora and fauna embedded in a geomorphologically rich region. The lake, along with its reed belt, forms the heart of this transboundary World Heritage site. The broadness of its horizon, its flocks of birds visiting from the North Sea and the Baltic, and its slightly saline water are reminiscent of some distant sea. And the value of its cultural heritage is abundantly illustrated by the two baroque palaces of Nagycenk and Eszterháza-Fertöd along with characteristic rural architecture.
Prehistoric Pile Dwellings around the Alps (2011)
In the context of archaeological World Heritage, the pile dwellings of the Alps are somewhat unusual in that they lay hidden underwater. Of the 111 selected pile dwelling finds in Switzerland, Austria, France, Germany, Italy, and Slovenia, five sites on the lakes Attersee, Mondsee, and Keutschacher See comprise Austria's contribution to this transboundary World Heritage site. These pile dwellings illustrate the life lived by their residents during the Neolithic period, the Bronze Age, and the Iron Age from ca. 5000 to 500 BC. Such village ruins – located underwater, in wetlands, and on lakeshores and riverbanks – are rich in organic fragments such as wood, textiles, plants, and bones that serve as precise indications of the everyday life, farming activities, animal husbandry, and technological innovations of Central Europe's first sedentary inhabitants.
[Translate to EN:] Alte Buchenwälder und Buchenurwälder der Karpaten und anderer Regionen Europas
[Translate to EN:] Von den ausgedehnten Rotbuchenwäldern, die nach der letzten Eiszeit weite Teile Europas dominierten, sind nur mehr einige wenige unberührte Restflächen erhalten. In Österreich befinden sich zwei Bereiche dieses transnationalen Weltnaturerbes.