The following publications are available for download and/or at the Austrian Commission for UNESCO in limited quantities. Publications can be ordered by submitting the title and delivery address to oeuk@unesco.at.
A School of Cosmopolitanism: Experiences with Global Citizenship Education in Classroom Practice
The brochure contains a number of good practice projects and school development processes concerning Global Citizenship Education (GCED). It is targeted predominantly at schools belonging to the Austrian UNESCO school network, and is intended to serve as an example. It also provides insights into activities regarding GCED in the field of education. In addition, it contains a guide with the criteria that should be taken into account when developing GCED schools and lessons.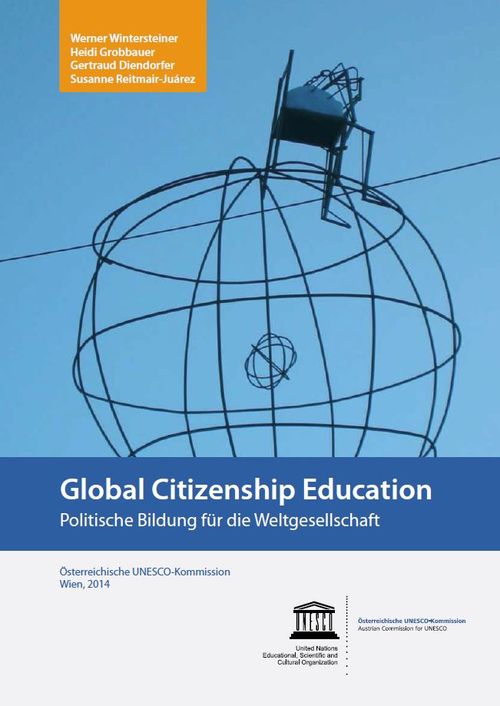 Global Citizenship Education: Citizenship Education for Globalizing Societies
Global Citizenship Education offers a necessary, inventive and further reaching thought structure, essential for education in these times of globalization and global society. This booklet deals with definitions and concepts in the context of Global Citizenship Education, discusses some fundamental questions und puts a focus on the requirements needed for practicing Global Citizenship Education.
Unpacking Sustainable Development Goal 4: Education 2030 - Guide
This guide provides an overview of the Education Agenda 2030, which is anchored in Goal 4 of the Sustainable Development Goals (SDGs). It provides guidance for a deeper understanding of the education agenda in the context of the 17 Sustainable Development Goals (SDGs) as a whole and is intended to promote their effective implementation. The guide therefore outlines the key features of the 2030 Education Agenda 2030 and also explores how its implementation can take place at the national level.
Available digitally only